How to do a visa run to Laos for a Thai Ed Visa:
You will need to apply for a visa from an overseas Thai Embassy. Laos is a popular destination for a Thai visa run. Many different visas can be acquired there including the Thai Ed Visa (Education Visa).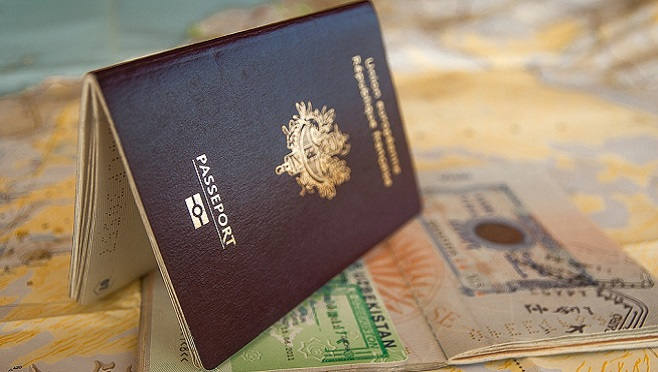 The quickest way to do this albeit more expensive way, is to fly from Thailand into Vientiane Laos, or as they call it The People's Democratic Republic of Laos.
This is how I did my visa run, and it was an uneventful success as I now have an ED Visa in my passport that allows me to stay long term in the kingdom of Thailand.
If you choose this method to get to Laos you will find it all quite easy. The airport code for Vientiane Laos is VTE, that is where you will be flying into.
The first thing that you will need to do after your arrival in Laos is go through Passport Control / Immigration. Bear in mind that the airport in Vientiane Laos is not very big, in fact it is quite small. Getting to passport control is not a long walk from exiting the plane.
When you enter the passport control area there will be three sections, one for Laos passports, one for Foreign passports, and one for visa on arrival. I as an American citizen had to get a Visa on Arrival.
There is an area set up next to it that has the Visa on Arrival form for you to fill out that was pretty straight forward. The single side of paper just asked for your personal information, how long you planned to stay in Laos, and the address you would be staying at in Laos.
In addition to the visa form you will need the immigration form that you got on the plane, 2 passport photos and $35 in cash to pay for it.
After you get through Immigration / passport control there is a baggage claim area, and you will see signs that say, "Nothing to declare." Proceed through the exit there, and right in front of you will be a public transportation / Taxi stand.
Walk up to the counter and let them know where you want to go, and you will be charged a flat rate to get there. You will get a receipt, and a driver will take you to your destination.
I booked a room at the Douangpraseuth Hotel located on Rue Bourichane Rd. This hotel is located a stone's throw away from the Thai Consulate which is where you will apply for and receive your visa.
Exit your hotel and cross the street in front of it, then go left. The Thai consulate is about a one minute walk down the sidewalk.
Applying for your Thai Non-immigrant Ed Visa:
It is a two day process to get your Ed Visa at the Thai Consulate in Laos. You will submit your paperwork to apply for it the first day, and return the next afternoon to pick up your passport with your new visa affixed to one of the pages.
The documents necessary to apply for your Ed Visa are:
The paperwork from the Thai language school with the letter from the Ministry of Education.
Your original passport with at least one unused full page for your Visa. You will also need open space for your entry stamp when you return to Thailand.
1 copy of all pages of your passport.
2 passport photos (3x4 cm)
The visa application form. (Available from the Thai Consulate)
You will also need to pay a fee for your visa. For a single entry Thai Ed Visa that fee is 2000 baht. You will pay this fee in cash on the second day when you pick up your passport.
The Thai consulate starts collecting applications at 8:30 but people start lining up early to get to the front of the queue. They will take visa applications between 8:30 and 12:00.
When you enter the main outdoor area at the Thai Consulate you will find plastic seats snaked around to form a queue. At 8:30 sharp a table will be set up with a couple of people quickly checking your visa paperwork.
If your paperwork appears to be in good order, you will get a queue number, and your paperwork will be turned over to another group of employees to be inspected more thoroughly.
There is a digital board located near the windows that you will report to when your queue number is called. You will see your queue number displayed on this board, as well as a verbal announcement in English, and a language that I assume is Thai.
When your number is called you go to the window to learn the status of your application. If it is approved you will be told to come back tomorrow to pick up your passport.
Distribution of passports affixed with your visa will take place between 13:00 and 15:00 hours the day after you apply for it.
Don't lose the queue number that they give you. When you go to pick up your passport the next day, they will hand them out in the same order as your queue number from the day before.
After they call your queue number you go to the window and they will show you your application and photo to verify that it is you. You will then get your passport returned to you with your Thai Ed Visa attached to an empty page.
Don't forget to smile, and give the person who hands you your passport a warm thank you before leaving the window.
Random After Thoughts About the Laos Visa Run:
Nobody is perfect, and things will get misplaced or lost. If in your case one of those things is the copies of your passport, or the proper passport photos, there is no need to worry.
There is a guy set up just a few steps away from the entrance to the Thai Consulate. He has an outdoor covered, yet open air area set up to make copies of your passport, and he can also take passport photos for you.
I happened to have somehow misplace my passport photos, and needed to use his services to help get my Thai Ed Visa. He had the visa application forms that the Thai Consulate requires you to fill out to get your visa as well.
After he printed out several passport photos for me he took an application and glued two of my photos to it, and handed it to me to fill out. He had a long table and bench set up to fill out the application, so I filled my Thai Ed Visa application out right there.
There are many good restaurants within a five minute walk from the Thai Consulate. I enjoyed eating at several different ones while I was there. English was widely spoken there.
At every place that I ventured into, I had no problem communicating in English with the employees at every establishment I went to.
One of the questions I asked them was, "Do you take Thai baht here?"
One of the questions I asked them was, "Do you take Thai baht here?"
Every place I went happily accepted Thai baht. They did their calculation on a calculator and showed the price in baht. Knowing what similar items cost in Thailand the price was very reasonable to me so I paid many of my expenses in Thai baht.
The currency of Laos is known as the Kip. Currency exchange places in Thailand don't want it. You should exchange some money into Kip, but it is virtually worthless outside of Laos.
The Voyage Back Home to Thailand:
The Laos International Airport is quite small. You will need to check in and get a boarding pass first, then you will proceed upstairs to passport control where you will get an exit stamp out of the country, and a used stamp on your visa.
You will then go through security which was just a metal detector, and baggage scanner. After that you follow the sign and proceed to the gates.
I came across a board showing the flights and departure times. I found my flight number but there was no gate number. None of them had a gate number so I assumed that it was a glitch, and followed the sign to the gates.
When I arrived there I found my answer. There were only two, Gate B, and Gate C. There was an area set up with seats, and a gate to board the plane set up at each end. Not a very big area either, especially to cover all International flights.
Like any international flight you will receive your immigration slip to fill out on the plane. The flight back to Bangkok was an hour and 10 minutes, before departing at Don Muang International airport.
I placed my immigration card in the page of my passport with my Ed Visa, and pointed out my Visa to the immigration officer who then placed a 90 day stamp into my passport.
It was the first time that I had entered Thailand with an actual visa instead of just a thirty day visa exempt stamp. I spent several years, planning and saving for my dream of getting an Ed Visa to stay in Thailand, I had finally done it. It was truly a happy moment for me. WOO HOO!!!
Incidentally, did you know that there are buses at Don Muang airport that will take you to the BTS Sky Train for only 30 baht?
From the international Arrivals area you leave the building from exit number 6, and look for the orange buses A1 / A2 on the right. A1 goes to Mo Chit, and A2 goes to Victory Monument.
From Domestic Arrivals you leave the building at exit number 12, and the buses will be on the right.
There will be signs up letting you know how often they come, and where they will stop.
Enjoy your long term stay in the Kingdom of Thailand with your Thai Ed Visa.
You Might Also Like:
Air Asia
Digital Nomads
My Thai Girlfriend Always Wants Money
Enlightened T-Shirts
Recommended Reading:
How To Get A UK Visa For A Thai
DK Eyewitness Travel Guide: Cambodia & Laos
Pimsleur Thai Conversational Course - Level 1 Lessons 1-16 CD: Learn to Speak and Understand Thai with Pimsleur Language Programs