Bangkok, Thailand Hotels:
Finding a hotel in Bangkok, Thailand can be a daunting task if you have never been there before. There are many websites that have hotel reviews as part of their theme. One of the most popular websites for worldwide hotel reviews is Trip Advisor. If you type Bangkok, Thailand into the search box, you will get an overwhelming number of hotels to chose from. Bangkok has both very inexpensive hostel type places, to 5 star hotels that offer the ultimate in luxury accommodations depending on how deep your pockets are. Guests of these hotels post reviews of their opinions of hotels that they have stayed in to help you make a more informed decision.
The problem is people all have their own unique personality, and different expectations of what they believe a good hotel experience should be. You will notice both excellent, and poor reviews of nearly every hotel on the list. Some of the gripes people had that caused them to write a bad review were kind of comical.
There was a bad review on one by a lady who complained because the hotel she stayed in did not provide tooth brushes to their guests. This hotel was a low to midlevel budget hotel, and there is a 7-11 open 24 hours a day a couple minutes walk from the lobby.
Another bad review came from a guy who seemed to blame the hotel when his debit card didn't work when he got to Thailand. Apparently this genius didn't even bring currency from his home country to exchange for Thai baht. He complained that the hotel wouldn't let him charge meals to his room on a card that was declined, and for having to pay for a phone call back home to clear up the matter. You are not dealing with the top of the human gene pool when it comes to reviews sometimes.
Fear not for Khun Greg is here to guide you. My first excursion into the kingdom of Thailand was in 2010, and I have been back every year since. There are areas of Bangkok that I know like the back of my hand. I feel more at home there then in my own home town.
People look for hotel accommodations based on their personal situation, and priorities. Someone with a family is going to be looking for someplace different then a single male looking for a place to enjoy the wild night life Bangkok has to offer. I believe clean, and safe are the top attributes most people look for when selecting a hotel in a foreign country.
The following are hotels that I have stayed in, all more then once, and can stake my reputation on.
Bangkok Loft Inn Review:
This hotel is the first hotel that I stayed in, on my very first trip to Thailand. I have stayed there every year since then, that alone tells you I give it the thumbs up.
The Bangkok Loft Inn is a budget hotel located a short walk from the sky train station Wong Wan Yai.
I decided to stay at the Bangkok Loft Inn based on the great reviews, and the fact that they pick you up at Suvarnabhumi airport when you arrive. (You must stay there for 3 nights to get picked up at the airport.) This hotel is located on a city street with just a sidewalk separating the door to the lobby from the busy traffic on the street. Look both ways as you cross the sidewalk too, motor bikes tend to use the sidewalks to more easily get around in Bangkok.
You will be greeted by, a friendly smiling face to welcome you to their hotel. The first thing that you will notice as you walk into this hotel is that it is spotlessly clean. They will offer you a glass of orange juice upon your arrival.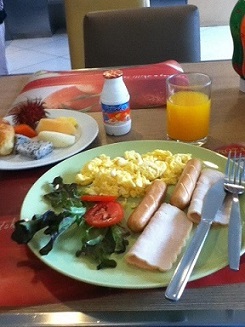 Choosing to have breakfast there is a wise choice. This is no cheap breakfast like a so called continental breakfast hotels offer in the United States. There are several main courses offered to you that you select the night before. I have tried three different options there in the past. My favorite option being an American, is the Western breakfast, this consists of eggs prepared to your liking, and meat.
I have also had the steamed chicken, and rice. It includes a spicy sauce that is quite good, if you like it hot. This was recommended to me by the sweet lady that works there, and serves your meal.
The third option I have selected is the shrimp salad. This is a salad with a little shrimp mixed in with it. I like salad, but there is not as much stick to your ribs substance to it as other choices, so I have only ordered it once. There is also a small buffet of breads, pastries, and fresh fruits for you to eat while you wait for your main course.
There is not much to see, or do right outside the hotel. There is a 7-11 nearby. You will not know it is there till you are standing right in front of it. Take a right outside the lobby, until you get to a few concrete stairs going down. Several meters past the stairs you will see glass doors with the orange, and green 7-11 stripes going across it. There you will find drinks, snacks, personal hygiene items, sim cards, and other 7-11 type products.
The sky train is a great way to get around Bangkok. Take a left out of the lobby, and you will very quickly come to stairs leading up to a covered walkway. This is a great way to stay out of the rain, and avoid the heat of the direct sunlight as well. Go up the stairs, and to the left to get to the Wong Wan Yai station.
Pros:
Friendly English speaking staff.
The hotel, and rooms are very clean.
There is a refrigerator in your room.
There is a television in the room with several English language channels.
There is a safe in your room to lock up your valuables.
The rooms have a KING sized bed, and ice cold air conditioning.
Walking distance to sky train.

Cons:
There is not much to see, and do right outside the hotel.
Their restaurant is only open for breakfast.